Festive Prawns
This is me pretending that I am way more important than I really am hanging with a Prince , but the guy was a complete visionary and early adapter around issues of sustainablity and organics way before anyone was really banging on , respec!...walking the talk regally ......Some 25 000 tonnes of prawns are caught from Australian waters per year. A great deal of these will end up on our tables on Christmas Day, as our enthusiasm for "chucking a prawn on the BBQ," has become almost ritualistic. So mention the word Christmas to a prawn and he will be shaking in his 10 little boots.
About a half of our domestic catch ends up being exported, as the rest of the world knows a good thing when they taste it, and our prawns are quite simply some of the best in the world. The best of the best in my opinion is the Spencer Gulf king prawn; ask a local and they will say it's the cold waters of this region that are responsible for its amazing flavour.
I am calling the Spencer Gulf king prawn the luckiest prawn in the world this year, they need not worry too much as Christmas approaches because someone is looking out for them. This year they gained Marine Stewardship Council (MSC) certification. They have joined the other 133 globally independently certified ecologically sustainable fisheries. The MSC, a global not-for-profit organisation dedicated to helping transform the seafood market to a more sustainable basis, has given its stamp of approval for the Spencer Gulf king prawn fishery.
Pat Caleo, MSC Manager of Australia and New Zealand explains, "The Spencer Gulf king prawn fishery is the first prawn fishery of any type in Australia and the Asia Pacific region to be certified by the MSC. It is also the first king prawn fishery in the world to be certified. This is quite an achievement, as fisheries need to demonstrate they are well managed and sustainable against the world's most rigorous and science based standard in order to carry the MSC ecolabel."
Simon Clark, Executive Officer of the Spencer Gulf and West Coast Prawn Fisherman's Association explains that the accreditation is testament to the current and previous generations of prawn fishermen in the Gulf who had been working co-operatively and responsibly with scientists and government bodies for years. These fellas had the foresight to see the Gulf had to be fished with care and responsibly if it was to be a resource for the future. More recently it has been working with World Wildlife Fund and Conservation Council South Australia. It's a great example of an industry working in consultation with environmental bodies for a win-win for everyone.
A good proportion of the existing (and strictly limited to) 39 trawler licenses have been passed down within the family to the next generation. It's no walk in the park skippering and crewing on a trawler. Although boats only work approximately 50 days a year, crews can leave in the early afternoon and undertake a 10 to 15 hour steam, fish and process all night. Then on a big night process up to 2 tonne on board through to midday, to ensure the catch reaches home in top condition.
Sure these prawns cost a little more but the price not only reflects the amount of hard work the "prawnies" do but also the level of science and research that goes into preserving the Gulf and its prawn stocks.
Three fisheries independent surveys are undertaken per year to develop harvest strategies. The harvest strategies are based on trying to maximise the prawn size of the catch which ensures that stocks that have already reproduced are taken, while immature stocks are left untouched giving them an opportunity to reach maturity, breed and replenish stock levels. There are also triggers that will stop fishing such as a minimum catch per night or prawn sizes drop below a set limit. There is a strange yet very sound logic in relation to this fishery's (a world first) real time management. When catches drop to a certain level or the prawns are deemed too small, the Committee at Sea will immediately close the area to fishing. This actually makes a lot of sense, it means the stocks are low or prawns are too small and the area needs to be left alone.
Only 15% of the Gulf is fished in a relatively short period, a proportionately small footprint compared to a lot of global operations. Licensees are out about 50 nights per year (down from as high as 280 nights per year of the past) and their combined efforts pull about 2 000 tonnes of Spencer Gulf king prawns per year. It is a relatively small yet valuable part of the Australian domestic total.
It is also one of the lowest by-catch fisheries in the world , a grill system on the boats tables (called hoppers) allows the prawns to fall through , while the remaining by-catch is immediately returned to the water to increase survivability rates, which is another key "minimum footprint" measure.
So this Christmas be nice to prawns and don't just, "chuck one on the barbie," but gently place a MSC certified Spencer Gulf king prawn down on the hot plate and show that you spared a thought for our oceans.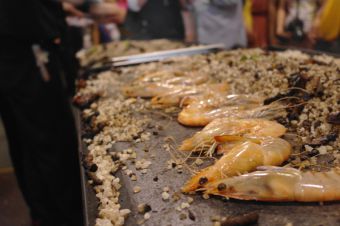 salt baked msc spencer gulf king prawn with "sort of " nouc mam cham
serves 4 as a generous entree
prawns
1 kg rock salt
12 whole green u/10 or u/8 (huge!) MSC certified Spencer Gulf King Prawns
5 kaffir lime leaves
3 tablespoons coriander seeds
6 whole big red dried chili
2 cassia sticks
6 star anise

Spread out the rock salt in a wok or on a flat top bbq and heat on full tilt. Stand back as the salt will pop and crackle as the moisture evaporates, a few pieces might even launch themselves!
Once it's very, very hot (after about 10 mins), dig a trench or hole in the salt, place the prawns and spices in then cover over with rock salt. The heat of the salt cooks the prawns in about 5 mins. When juice starts oozing out of the prawn is beyond ready.
Unbury the prawns, shake off excess salt Dip a prawn completely in the dipping sauce and eat (starting at the head)!
nouc mam cham
60 ml rice vinegar
60 ml coconut water (sometimes called young coconut juice, it's the pale "water" you get when you crack a fresh coconut, but is available tinned in Asian grocers)
3 tablespoons caster sugar
2 garlic cloves, chopped finely
1 bird's eye chilli, thinly sliced (remove seeds if you don't like it hot)
40 ml lime or lemon juice
Combine all ingredients and whisk until sugar dissolved.